Making a difference in the community
If you want to touch the past, touch a rock. If you want to touch the present, touch a rose. If you want to touch the future, touch a life. Lions Clubs, touching lives every day.
Why Join Lions?
People join Lions for various reasons. Lions may have helped them, a family member or someone they know. Others join because someone they know and respect or admire invited them. Then there are those who join because it is part of their very nature to volunteer. Regardless of the initial calling, most members recognise early in the journey the powerful self-worth one gets from becoming part of something bigger than yourself. Often the journey of Lions is a is not only rewarding but is a life changing experience.
Who Can Join
Lions Clubs are for everyone, inclusive of gender, race, culture and linguistic background, disability, sexual orientation, and gender identity. Our aim is to unite all in the bonds of friendship, good fellowship, and mutual understanding. With more than 1200 clubs in Australia, wherever you are from, whatever your background there is a club for you. Lions Clubs are built on the skills, ideas, interests, and labour of our members. We value the contribution everyone in our organisation.
We Serve
Lions are ordinary people from all levels of society who enjoy getting together and doing good things. We are kind and generous people who want to help. That is why we work on projects to improve our communities and protect the environment. Being a Lion is about leading by example, building relationships, and improving the world through kindness We get enormous satisfaction from the knowledge that what we do DOES make a difference. The bonus is that we are alongside our friends and have fun while doing so.
Develop Skills
As a member you may be content to simply attend meetings and help with projects, due to work, family, or other commitments. Others are content to be simply part of the team and enjoy that level of responsibility. But if you want to do more with your time and skills, then Lions can assist you to learn and develop the skills which are of interest to you. You may gain the knowledge that will set you up for potential leadership in the future. Lions gives you the opportunity to decide where you want to be within the organisational structure and provides the training to make it happen.
Second Monday every month 3.45 for a 4.00pm start at the United Church Hall, Collingwood Street, Goolwa, SA 5214.
Fourth Tuesday of every month 6.30 for a 7.00pm start held at the Goolwa Hotel, 7 Cadell Street, Goolwa, SA 5214. Visiting Lions, we would love to have you join us for dinner, contact our secretary to arrange.
Handover Luncheon 2023-2024
On Sunday 25 June 2023 the Lions Club of Goolwa held its annual Handover Luncheon at The South Lakes Golf Club. In attendance were, Rebekha Sharkie Fed MP Member for Mayo, David Basham State MP Member for Finnis and Deputy Mayer of Goolwa Bill Cooman. Emcee for the night was Lion Greg Johnston and performing the formal proceedings for the day was Past District Governor Norm Sommerville.
After the welcomes, introductions and toasts we were treated to a splendid three course meal prepared and served by the talented staff of the Birdy Bistro and well looked after in relation to beverages by the golf club bar staff. We thank them all for their friendly and efficient service.
The formal part of the luncheon saw outgoing President Lyn Clayson summarised the eventful year had by the club and presented Lions Club Awards. PDG Norm Sommerville then performed the induction of the incoming President Kath Sargent and inducted the new Board. New member Caroline Smith was also inducted into the club.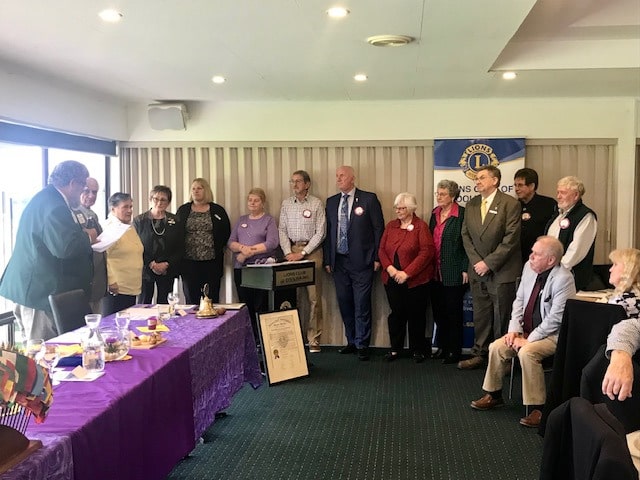 Making a Difference in Our Community